Stop and take a deep breath… Feel the wind and experience the sights of Colorado's wild animals from the seat of a whitewater raft. 
Whether you're hiking trails or paddling the rapids of the Arkansas, Clear Creek, Blue, or Colorado rivers with Kodi, you're guaranteed to see some wildlife! Colorado's diversity of landscapes and vegetation is home to a wide variety of wildlife like the bighorn sheep, elks, golden eagles, and varieties of trout.
We want to provide a quick reminder to never feed or disturb any wildlife. For more information on the leave no trace ethos, check out our recent blog. 
Fish in Colorado's Rivers  – Rafting
When you're whitewater rafting the Numbers, Browns Canyon, or Pine Creek you may be lucky enough to see some fish. The main fish population in the Arkansas, Clear Creek, Blue, and Colorado rivers are brown and rainbow trout, but you'll occasionally see some Brook Trout too. Another animal you'll commonly spot in the rivers are Beavers! Beavers aren't fish obviously, but there is a possibility you will see them and their amazingly clever dams.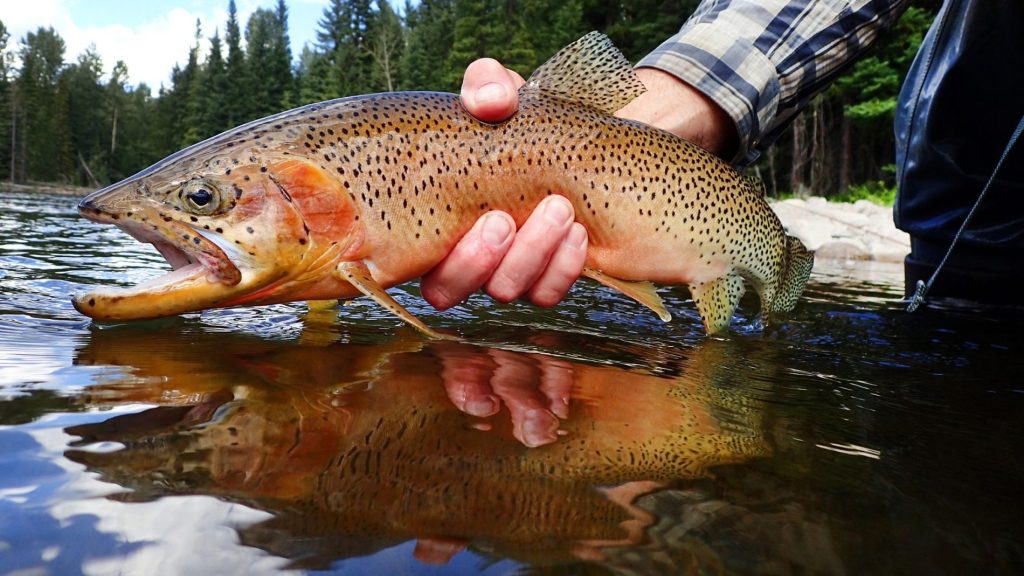 Did you know the Colorado native trout before the 1850s was the greenback cutthroat trout? The Arkansas river used to be teeming with greenback cutthroat trout, but sadly the mining runoff in Leadville killed this fish species in the valley of Buena Vista. You may be asking yourself, HOW? Greenback cutthroat trout died due to a heavy amount of metal contamination and soil erosion. However, Leadville National Fish Hatchery is working to resolve that since the greenback cutthroat trout are endangered, and it's their main priority to repopulate the surrounding rivers and lakes. 
A long-spoken legend between the senior whitewater river rafting guides is that Northern pike fish have been caught in the Arkansas River. Northern pike are high alpine lake fish that like deep and cold water, but sometimes they're flushed out of the lakes and have been found in our rivers! There are no guarantees of seeing a pike, but the senior river guides swear by this tale. 
Unfortunately, we don't allow fishing from the rafts because of the other guests on your boat, but if you are looking to fish be sure to check out the requirements for your fishing license in Colorado and some rules and regulations you can reference to legally fish in Colorado. 
Colorado's Birds as Seen Overhead From the River
When rafting, it's easy to forget to look up, but we highly encourage it! Here in Colorado, you will see great blue herons, bald and golden eagles, turkey vultures, and Corvus. Common birds you may spy are sparrows, robins, and swallows. The swallows are very prevalent when it is raining/drizzling. Did you know that birds predict the weather? When it's raining, swallows fly low because they have very sensitive ears. When the barometric pressure drops, swallows will fly as close to the ground as possible because the air density is greatest the lower they go. 
Another common bird you or guide will often spot are in the Corvus family, which includes ravens, crows, and magpies. You won't miss these birds, as they are very noisy!  
Some striking birds you have a possibility of seeing are the red-winged blackbird, blue jay, North American goldfinch, and steller's jay. The steller's jay looks like a metallic blue bird, and is super unusual and truly beautiful. Check out the photo below of a steller's jay in the wild.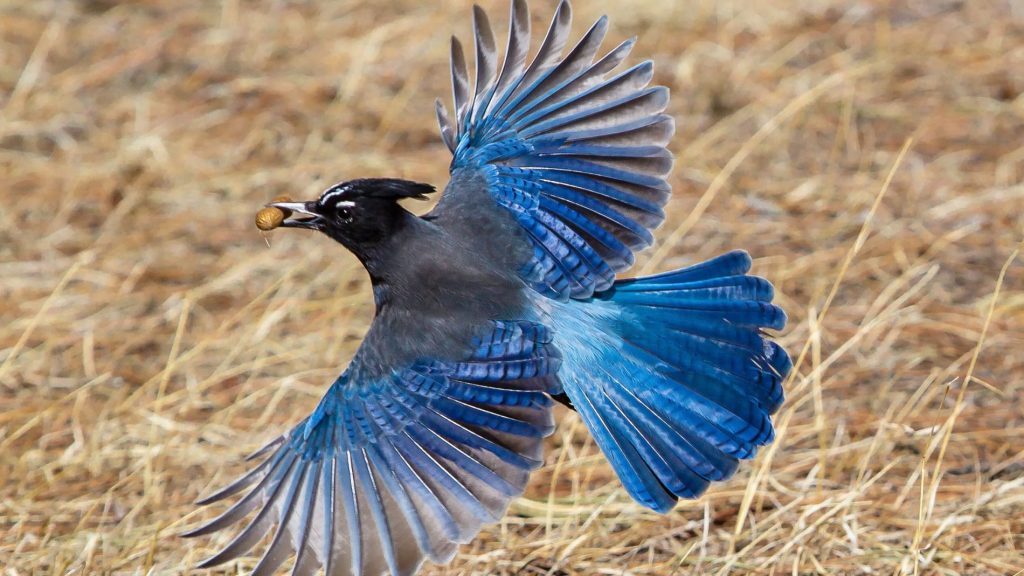 Some rare birds that are less likely to cross your path but you may be lucky enough to see are the western tanager, great blue herons, bald eagles, and golden eagles.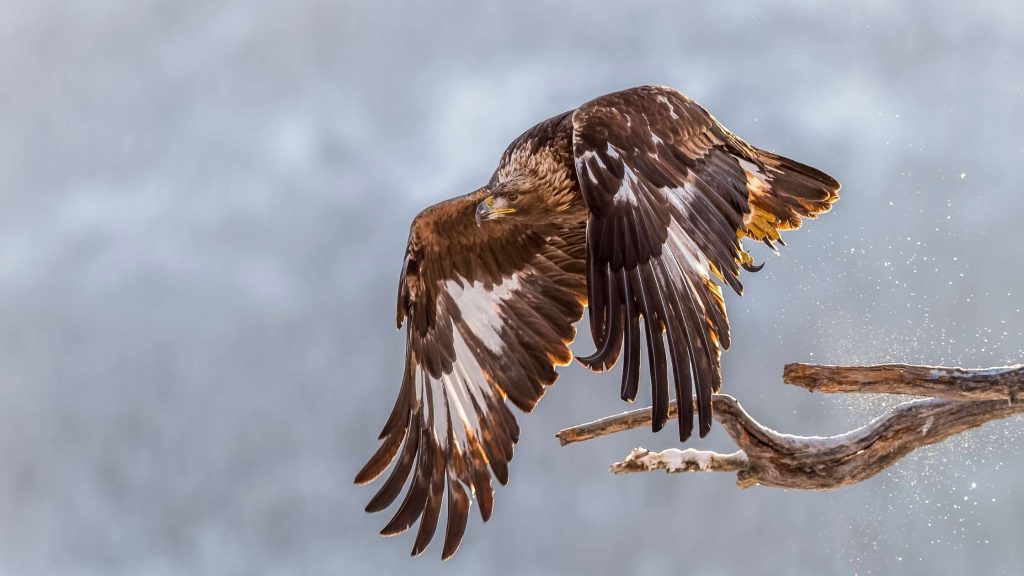 Birds we can almost guarantee you will see are peregrine falcons, turkey vultures, and good old Canada geese, as well as the occasional duck or two!
If you would like some more pictures of birds and wildlife animals in Colorado, be sure to check out FDRD, Friends of the Dillon Ranger District which also offers more information about our forests.
Colorado's Land Animals in The White River National Forest
Colorado is the land of the wild for larger wild animals as well. Yes, there is a possibility you'll come across black bear, elk, mountain lions, coyotes, red foxes, moose, bobcat, mule deer, white tail deer, porcupine, pikas, snowshoe hare, Rocky Mountain bighorn sheep, and mountain goats. Did you know that snowshoe hare's beautiful coat changes colors with the season? In the wintertime, snowshoe hares are white to disappear into the snow and in the summer they turn a nice shade of brown to blend in with the forest floor and bushes. When whitewater river rating, our groups can get very loud and animals hate loud noises, so it's less likely you'll see any of the larger animals, but we definitely get a glimpse on occasion.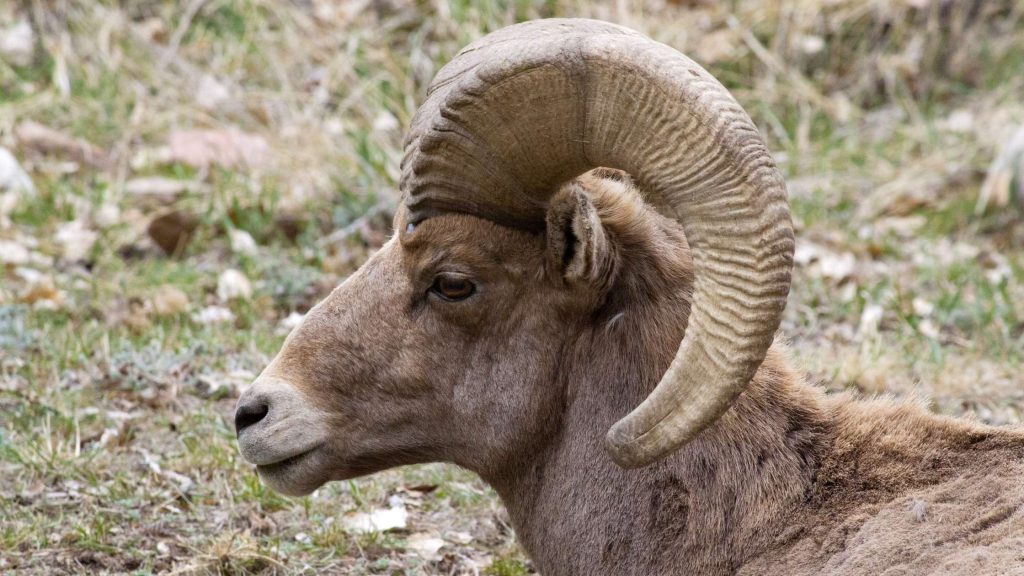 There are many Colorado marmots that you may see or just hear. The largest of the Colorado land squirrels is the yellow-bellied marmot. The yellow-bellied marmot hibernates throughout the winter, and when approached you will hear a loud warning whistle, which is very unique and earns these animals the nickname "whistle pigs."
Recently, gray wolves were reintroduced into the Colorado mammal landscape. We have never seen any wolves on our rafting trips to date, but there have certainly been sightings of them throughout the plains and in the ranching communities. In the gray wolf reintroduction process through natural migration, one pack has already established itself in the North Park Mountain Valley near Walden, Colorado, but we have not seen any near the Upper Colorado River, the Arkansas River, or the Blue Rivers.  
Ready to animal watch from a whitewater raft? Call and get signed up for your next Colorado adventure in Buena Vista, Breckenridge, Frisco, Idaho Springs, Kremmling, or Cortez Colorado through Kodi Rafting. If you have any questions about what raft trip will be best for you and your friends or family feel free to give us a call at 877-747-RAFT. We are always happy to answer all your questions and recommend the ideal trip for you!!