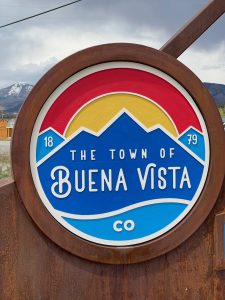 KODI Rafting – Arkansas River Outpost
15620 Bear Tr.
Buena Vista, CO 81211
Get Directions on Google Maps
(877) 747-RAFT
See the Coffee Shop
Trips Departing from Buena Vista
About Buena Vista
Buena Vista, Spanish for "good view," is nestled at the base of Colorado's largest concentration of 14,000-foot mountains, a range of peaks known as the Collegiate Peaks.
This small—but growing—mountain town is a great place to live and play. From rafting and mountain biking to hiking and rock climbing, this Colorado gem has it all.
Buena Vista is considered by many to be the whitewater capital of the United States, and for good reason! The Arkansas River, Colorado's #1 rafted river, runs right through town and offers several access points just a short drive from Main Street.
Located just two hours from Denver and one hour from Summit County, Buena Vista is not only convenient, it's also home to KODI Rafting's most popular outpost and the McGrath family who owns and runs the business.
Browns Canyon National Monument's stunning granite walls rise from the valley floor just a few miles south of downtown. President Obama designated the 21,586 acres of unspoiled canyons, rivers, and backcountry forest as a monument in 2015, confirming the magnificence of the canyon, the Arkansas River, and the surrounding region.
Canyon Door Coffee
Caffienate, hydrate, or fuel up at the Arkansas River Outpost!
Open daily! We proudly serve locally roasted coffee and snack-food selections. A perfect way to enjoy a post-river refreshment while taking in the Collegiate Peaks.