Purchase a Gift Card!
Gifting Experiences and Memories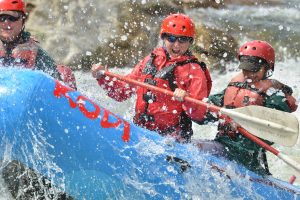 We've all gifted our fair share of things to loved-ones over the years. The excitement and usefulness of those things fade, but the river and all of the adventure and beauty it offers leaves lasting memories. Here at KODI we have learned that there is no greater way to pass on the legacy of the great outdoors to them other than to immerse them in it to experience it for themselves. Through these unforgettable experiences, we build memories, bond with each other and appreciate our remarkable natural world.
We continually hear comments from our guests that involve the phrases "bucket list", "once in a lifetime", "highlight of our vacation" or "I am so glad I finally did this". From the back of the raft we get to see that excitement come to life! Just after clearing an exciting rapid, when our guests make that unmistakable exchange that declares "that was AWESOME", with grins across their faces and adrenaline still hanging on, we know that experience will never fade.
Our gift cards are a great way to give the gift of experience, adventure and fun. A KODI Rafting Gift Card is redeemable for whitewater rafting, family floating, SUP (stand up paddle boarding), Zip-Lining, Saddle Paddle tours and retail merchandise in Outposts. Amounts can be customized or be applied to building the ultimate package. See our Gift Card Guide below for suggested amounts to cover our most popular adventures.
To purchase a Gift Card, please call us at 970-668-1548, or purchase online using the form below. We look forward to helping you give the gift of adventure this season!
Gift Card Guide
Raft trips range in value. We recommend purchasing gift cards based on your level of desired gifting. We are happy to take your call however to provide you with a specific price for different river trips based on what the giftees needs may be. We can help you work out those details!