We Focus on Safety for Your Raft Trip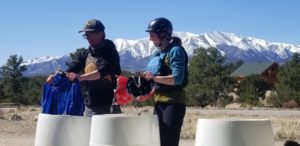 We have added new procedures for our daily operations to put you at ease and make sure that we are doing everything we can to ensure the health and safety of you, our guests and staff:
When booking, please let us know if you would like to reserve your own boat, keeping your group to just your travel companions. We understand that you may prefer to maintain additional social distancing measures and we will accommodate to the best of our ability so long as it does not compromise your safety on the river.
Please be prepared to cover your face on the bus or van ride. Face coverings will be available for a nominal fee. You are welcome to bring your own. Your guide will not be able to hold onto it for you while you are on the river.
Implementation of a digital waiver system so you can sign pre-trip documents before you arrive. Don't worry, if you forget we will also have tablets available for you as well and the option for you to use your own mobile device. A link to your waiver is found in your confirmation email.
Installation of new hand sanitizing stations throughout all of our facilities as well on buses and vans. We want you to feel like you can freshen up on the go.
Disinfect and clean KODI transportation. We have enough buses and vans to rotate them out of service each day to make sure your ride is fresh and clean before it is put back into service between trips. You will also be offered sanitizer before getting into a KODI vehicle.
Wiping down restrooms, door handles and booking counters between trip departures in addition to regular scheduled cleaning and maintenance.
As always, we continue to sanitize all of our gear after use including wet suits, helmets, PFD's (lifejackets!), splash jackets and river booties. Remember you are always welcome to wear your own rain jacket or shoes on the river as long as they lace or strap around the ankle (no crocs or flip flops).
Also, know that your raft and paddles have been properly cleaned before you use them on your trip!
*We are learning each day. Our efforts are self-implemented and like many of you, we are charting new territory. We will do our very best to make sure we are working to stay on top of new health and safety regulations as they apply to our operations in the coming weeks.