Our whitewater rafting guests often ask us questions about river water depth, the kind of rapids they'll be rafting through, and what the whole class system means as they prepare for their first or even 50th rafting adventure with us. So we thought we'd bring some clarity to the question and give you an overview of rapids classifications for whitewater river rafting … and provide some expertise on the topic.
Factors in Rapids Classifications
Rapids and the classifications of whitewater vary due to different circumstances: water levels can be high or low depending on the amount of snowmelt and vary as weather conditions change. Our beautiful snowcapped Rocky Mountain peaks melt and flow into Colorado streams, rivers, and reservoirs starting in earnest in May, which is the start of the spring runoff. The start of rafting season usually kicks off in the middle of May as the weather warms up, and tends to max out the highest water flow throughout Colorado depending on altitude and distance from the deepest snow pack. In general, spring snowmelt brings higher water and higher levels of difficulty while running our rivers primarily because the water runs fast and furious, forcing quick decisions as river features change. Water levels fluctuate dramatically throughout the summer and our guides can even see differing conditions between a morning run and an afternoon trip when water levels are in a high state of flux.
What are Rapids Classifications?
Rapids themselves are graded on a class system starting at 1 and progressing to 6. The higher up the scale they go, the more difficult and the more consequential the stretch of water will be. As an example, there are many variables that can change, either upgrading or downgrading the classification of a rapid. Rapid variables include water levels, objects, under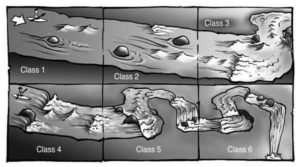 cut rocks, and strainers (like a log jam). Certain features within a river naturally are more difficult and make it more challenging to navigate. For example, Brown's Canyon is less difficult to navigate than the Numbers section of the Arkansas River. This is why it's so great to have an experienced raft guide to help you experience Colorado's most beautiful areas safely. This, as well as having a great day of fun on the water, is what you experience when rafting with Kodi Rafting. Let's explore the difference between each classification of whitewater in even more detail than is outlined on our website's rapids classification page.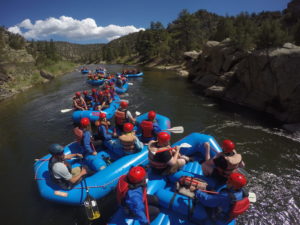 Class I is flat, easy moving current. Minimal moves, minimal difficulty. The most difficulty you experience on this level of river is navigating around bends and avoiding shallows, perhaps pulling into eddies. Think of this as a leisurely float down a river. Class I is about staying with the current and literally going with the flow.
Class II is moving current with slightly more difficulty and has specific moves that your raft guide needs to make in order to navigate the river efficiently. The difference between class I and II is the necessity to maneuver around objects or shallow sections. Class II is a moderate river trip and great for families. A bit more adventure and splashing without high anxiety. Join Kodi for class II trips on the Upper Colorado, Blue River, or Clear Creek for 1/2 day or full day trips.
Class III is a moderately difficult section of river, with slightly higher consequences, and with more difficult moves to be made by your raft guide. There is typically faster moving current than class I and class II, and there can be objects and things to avoid along your path. Some of these potential objects could impede your raft, or even flip you over if not navigated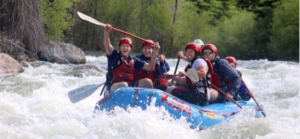 around properly. Class II, & III trips are your typical family trips with somewhat older or more adventurous family members. If you'd like to experience a higher level of family excitement, book our Arkansas 1/2 day or full day trip with Kodi at our Buena Vista location, or the Clear Creek Canyon trip departing from Idaho Springs to enjoy class III rapids.
Class IV is a difficult stretch of river. A class IV section has fun, fast and technical rapids. Standing waves, big rocks, turbulent water, and difficult features are all things you will find on Class IV river runs. These rapids are active: multiple objects, multiple variables and multiple moves involved in order to navigate safely. The Numbers of the Arkansas River, and Clear Creek are examples of exciting options Kodi offers to raft this kind of trip, for a high level of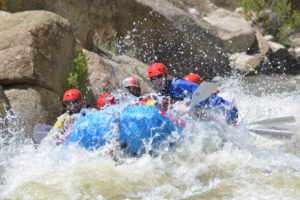 excitement and challenge.
Class V is for experts only. This is the most challenging level for a commercially rafted trip. Class V includes lots of maneuvering, with fast consequential moves. Teamwork, communication, coordination, and strong paddling are needed to safely navigate Class V sections of whitewater. These rapids can have large drops, violent currents, and extremely steep gradients – and loads of excitement!
Class VI is extraordinarily difficult or non-runnable sections of river. Rafters face extreme imminent danger. Think cliff drops, big rocks, and scary aspects of challenge. Class VI level rapids are never run commercially, and are often walked around by rafters to avoid them.
So whatever level of challenge, splashes, and excitement you desire, Kodi Rafting can deliver. From calm float trips to expert runs to go big, give us a call to book the rafting adventure that suits your family, group, or yourself!
Call to book your whitewater adventure with us today at 877-747-RAFT or book online here. See you on the river!