Meet Chas, the Kodi's Rafting Manager, Raft Guide, Kayaker, Guide Trainer, and all-around go-to dude! Chas is a 12-year raft guide and is about the most experienced, and the nicest guy you'd ever want to meet. We had the opportunity to catch up with Chas before the season gets flowing and ask him a few questions. So when you see him at the outpost you can say hello and ask him about his many adventures.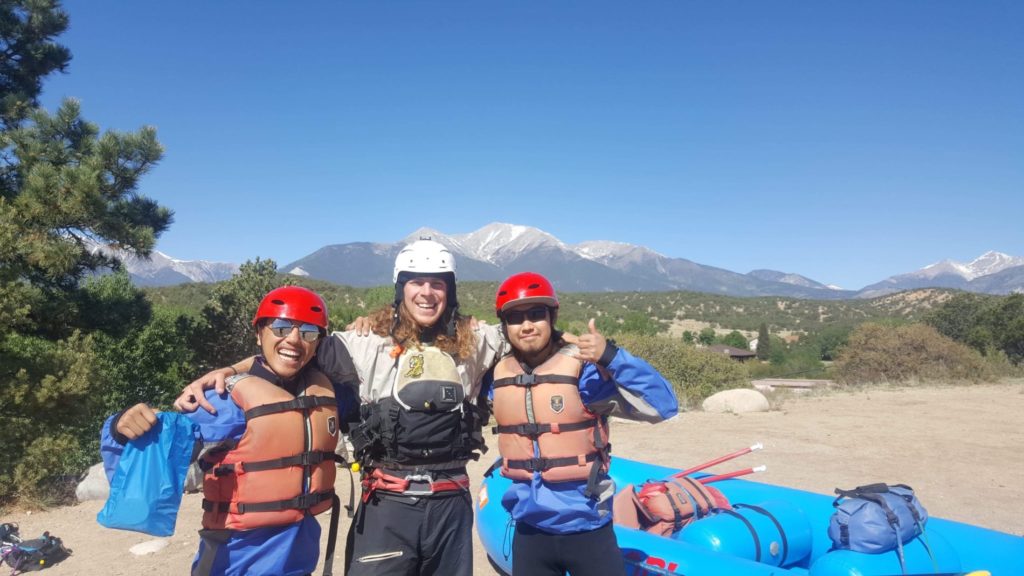 Q. Chaz, do you guide anywhere beyond the rivers here in the Colorado mountains? 
A. I have guided in South America – Colombia specifically, for a few years, during Colorado winters and before that, I wintered in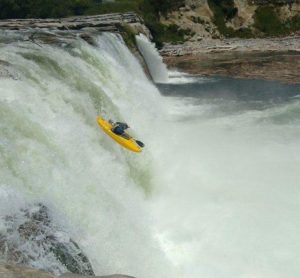 Australia. South of the equator, I also guided in New Zealand. All are beautiful places and challenging with exciting whitewater. I make a lot of great connections through friends in the whitewater community and that helps me decide where to go next. Check out this photo of me kayaking over a Maruia Falls in New Zealand – totally exhilarating! 
Q. What is your favorite river you've rafted?
A. My favorite is actually in Australia where the rivers are the most challenging. The Tully Gorge near Cannes in Northeast Queensland is specifically my favorite, with beautiful scenery and great whitewater. In Colombia, I like the Rio Calderas and Rio Verde Rivers. I am not a fluent Spanish speaker, and I learned a lot being in Colombia!
Q. What else do you to during the Colorado winter season?
A. I am an avid snowboarder typically snowboarding at Breckenridge, which was obviously cut short this season. I used to manage a ski shop, Black Tie Ski Rentals in Breckenridge and love the resort. In mid-September I head to Gauley Fest in Summersville, West Virginia, which is a whitewater festival for raft guides and kayakers – wouldn't miss it!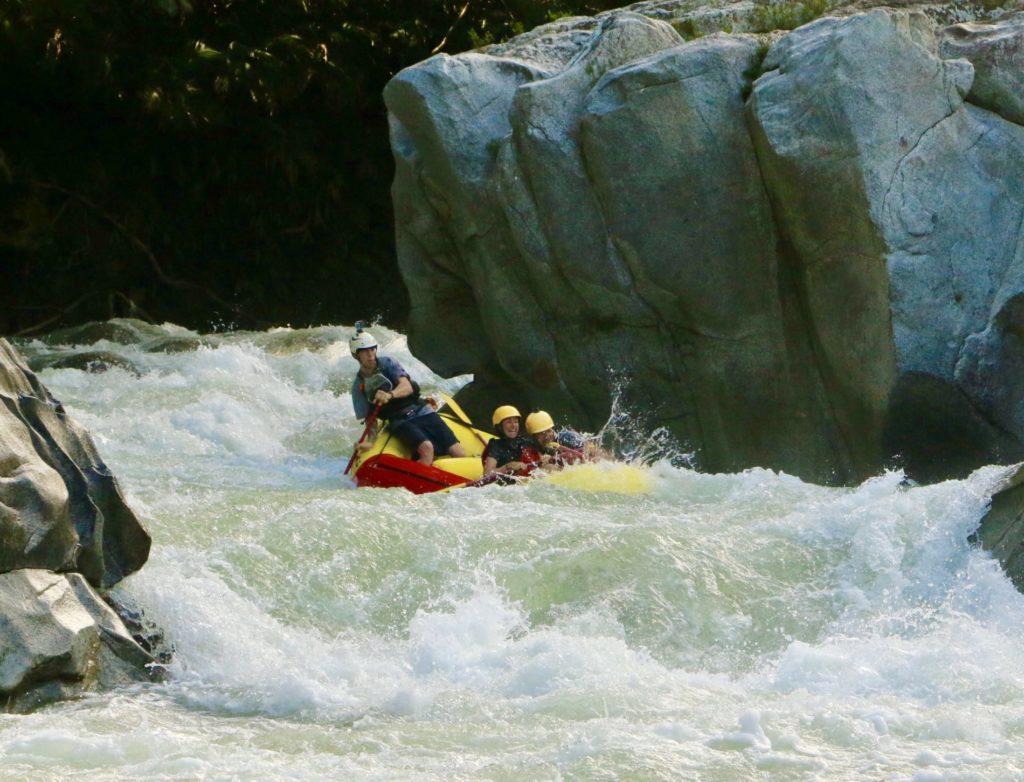 Q. What drew you to rafting as a career?
A. I grew up in Ashville, North Carolina and there is a lot of whitewater rafting there. I always remember rafting there as a kid. My mother bought me a PFD and a helmet when I was a kid and I've been hooked ever since! We drove by the local outpost everyday, and I couldn't wait to be old enough to become a raft guide. As soon as I finished high school, I was applying for a job as a guide. I've thanked my Mother by taking her rafting around the world, including Australia. 
Q. Any interesting people you've taken rafting? 
A. Sure! I've taken lots of famous and successful people rafting including people like Emma Watson, Sara Blakely's husband and his buddies, the Denver Nuggets' head coach, well their entire coaching staff actually. Broncos players, Nuggets players, Internet figures, actors. The interesting thing is that these folks know they are out of their element and can let loose and have a great time.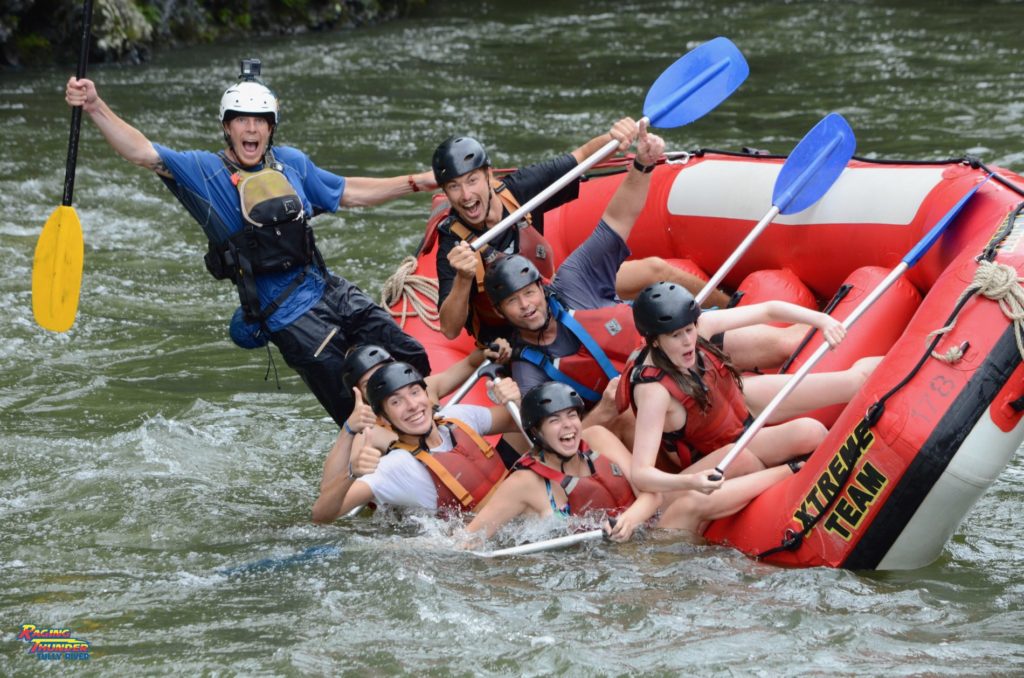 Q. What do you love about being a raft guide the most?
A. I really enjoy guiding people for their first time on a raft and getting them hooked on being on the river. But even more so it's the phenomenal lifestyle, it's literally a ticket to the world. In these beautiful places, everything goes away when you're on the river. It's the best way to live and I enjoy the whole lifestyle, including everyone involved in it. You don't get to take money with you when you're dead.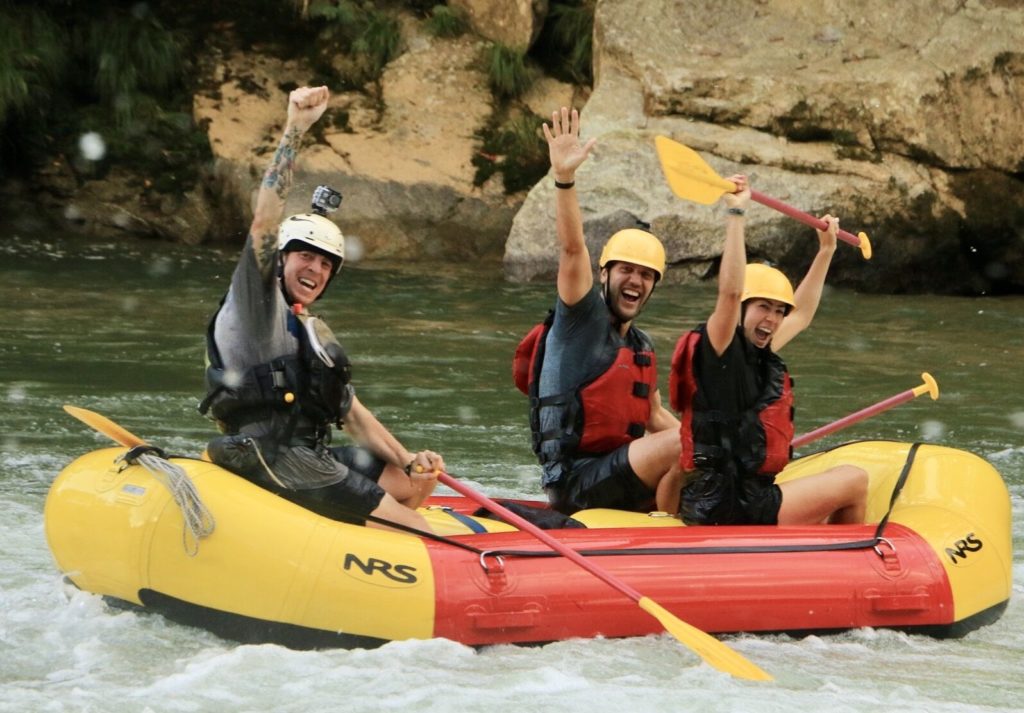 Q. Last question for you – what is your favorite part of guiding with Kodi Rafting?
A. Oh, the best aspect is definitely the people here, the family. After working with different raft companies throughout the world, the staff here keeps coming back for 5 and 6 years in a row. We live together during the winter, becoming friends and family and going through everything together. I wouldn't want to raft and work with anyone else – Amy and Dave are great!
You can reach out to Chas if you have any questions for him or are interested in
becoming a raft guide at Chas@whitewatercolorado.com.