What to wear whitewater rafting is one of the most common questions asked by our guests and newbies preparing to embark on their first river trip. You'll need to consider a few key things when deciding what to wear for whitewater rafting, from the type of boat you'll be taking and the weather forecast to your comfort level and the physical demands of the trip itself. This guide will help you determine what to wear when rafting based on your location, weather, trip date, and water levels.
Rafting Clothes: What to Wear?
Wearing the right rafting clothes is essential to ensure you have a good time. While you'll very likely get wet, you want to avoid being soaked, cold, and uncomfortable. The following is a checklist of what to wear, depending on the season and your preferences.
A good pair of shoes or sandals with straps to stay on your feet and can get wet are important to start with. Alternatively, you can use neoprene "booties" from the company which have traction on the sole and zip up to stay secure on your feet. Slides or flip flops will quickly fall off your feet and are not a good choice.
A sporty tank top and shorts are great, but be sure they are quick-drying nylon or performance fabrics. You can also layer a swimsuit underneath nylon shorts or swim trunks for guys.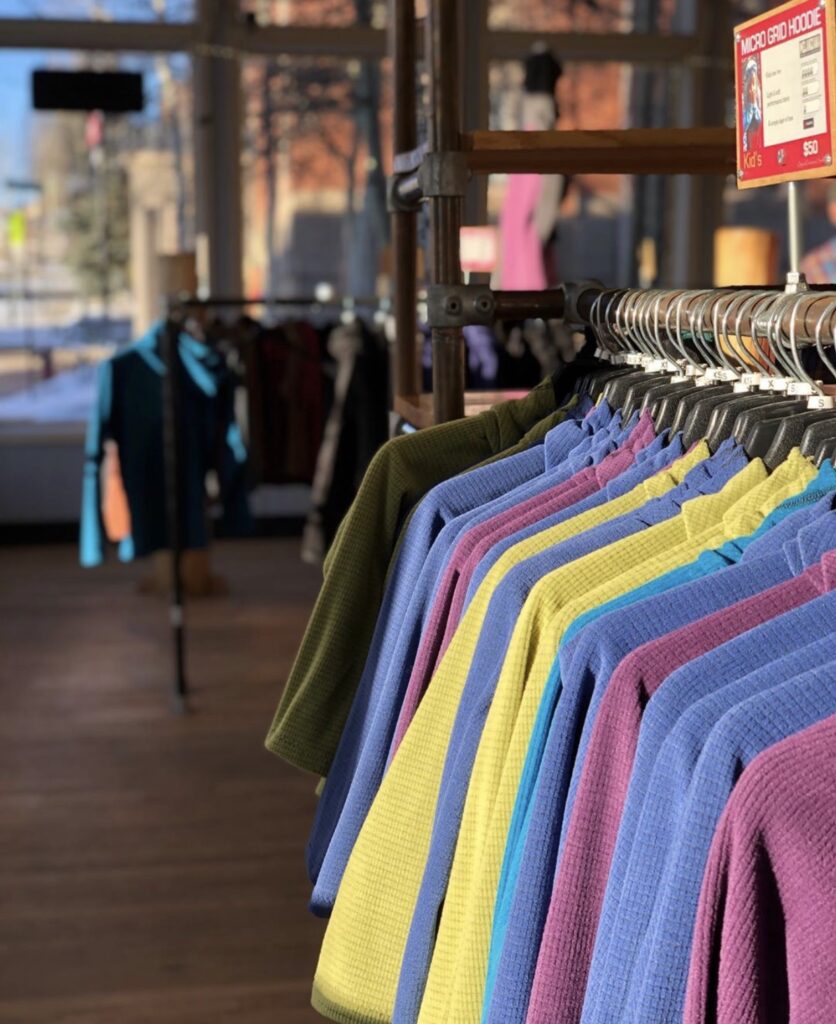 Choose Clothes for the Water
When whitewater rafting, you'll want to wear clothes that can dry quickly and athletic enough that they won't inhibit your movements while climbing in and out of the boat, paddling, or swimming.
Prioritize Layers
When deciding what to wear for a man or woman whitewater rafting outfit (not to mention kids), it's important to prioritize layers. You'll want to start with a base layer that is quick drying and light. Next, depending on the weather, you can add a mid-layer for insulation like a long sleeved nylon t-shirt or a thin wool shirt. Finally, top it off with a waterproof outer layer like a splash jacket.
Avoid Cotton
Everyone from a first-time rafter to a seasoned pro will do best to avoid whitewater rafting clothes made of cotton since cotton stays wet, which can lead to chafing and discomfort, and being soggy and cold throughout your trip.
Sun Protection
Always wear enough waterproof sunscreen when going for any whitewater rafting trip. Apply sunscreen before getting onto the raft or going out for a day trip, and make sure you have some in your dry bag if you are going on an overnight trip or will be out longer than six hours. The sun reflects off the water and at higher altitudes can be very strong.
Life Vest
When it comes to the best clothes to wear for white water rafting, a life vest is both essential and required. It will keep you safe and help you stay afloat if you find yourself out of the raft. Plus it's bright and easy to spot, and there are straps to act as a 'handle' should you need help getting back in the raft.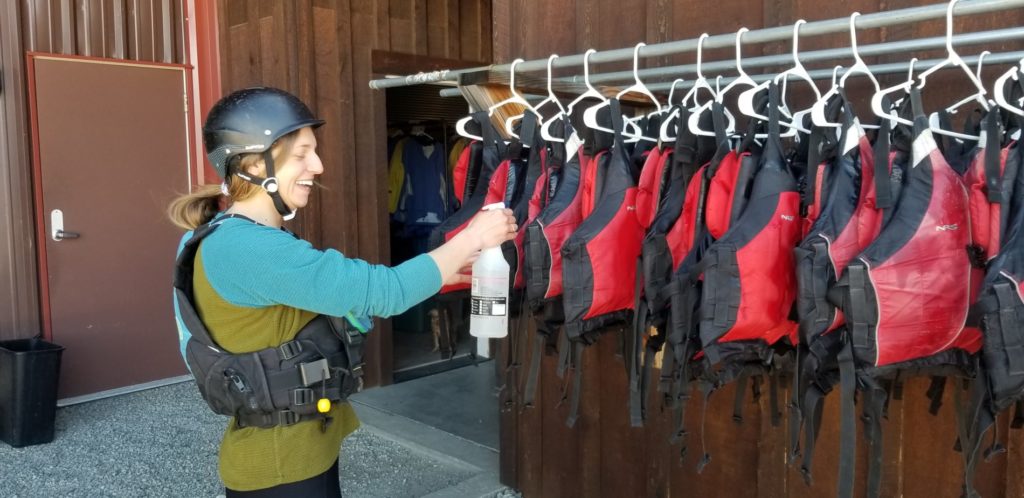 What Rafting Shoes to Wear?
If you're planning a whitewater adventure, it's important that you have the appropriate clothing which includes the perfect rafting shoes. You want something with traction because the river shoreline and the wet rocks can be slippery. The best shoe for whitewater rafting is waterproof (or at least water safe) and stays on your foot when wet and has a heel strap or some other kind of closure system (like Velcro) that ensures they won't fly off mid-river. It's probably obvious that leather, insulated, or furry shoes or boots won't work especially well in the water.
What to Wear for Whitewater Rafting
Dressing for fun and comfort is just as important in whitewater rafting as in any other outdoor activity. Depending on the time of year and the location of your trip, you'll want to ensure you have the right gear to stay comfortable.
Here's a quick guide to what to wear for whitewater rafting in Colorado.
What to Wear for Whitewater Rafting in Summer
For many people, the word rafting conjures up images of people hanging onto a rubber raft as it careens down a river. This ultimate guide will give you the lowdown on the best whitewater clothes for summertime rafting trips.
Quick-Dry Shirts or Tanks: Always go for t-shirts or tank tops with quick-drying properties like nylon or polyester (trust us, no cotton!).
Quick-Dry Shorts or Pants: For your bottoms, quick-drying pants and shorts should be on your gear list for whitewater rafting in summer, fall, and spring. You'll also be more mobile and comfortable in loose fitting shorts or pants, also in lightweight nylon or performance fabrics (no jeans!).
Bathing Suit: The first woman's water rafting outfit layer should be a bathing suit. Bathing suits are recommended even though you will have an extra set of clothes over them. Another solid option is a sports bra with support that can get wet and nylon shorts or even a skort since they tend to be extra comfortable.
Footwear: Are you looking for what shoes to wear for whitewater rafting during summer? If so, you should look for waterproof sandals with comfortable and secure back straps. Note that back straps ensure that your shoes remain on your feet during the rafting trip. Water shoes work well for another option.
Need to Rent or Buy Whitewater Apparel? KODI Rafting is here to help!
When it comes to whitewater rafting, what you wear on the river raft can be a major determinant of whether you're going to be physically comfortable throughout your trip. Before hitting the river, be sure you have the right clothes for whitewater rafting. When you plan your adventure with Kodi Rafting, rest assured that the top-quality and most appropriate whitewater apparel will be available to you. If you have any concerns or questions about whitewater rafting in Colorado, call us today at 8777477238.