The Covid 19 worldwide pandemic has certainly impacted all our lives, and brought into focus the gift of time with family and friends. With the holidays right around the corner, you're sure to be on the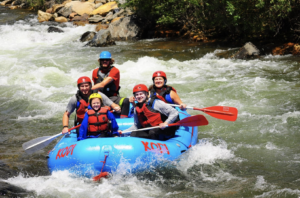 hunt for perfect gifts to surprise the special people on your list. There's no better way to remember adventures with family and friends than making use of your rafting photos as personalized gifts! Capture the excitement you felt while navigating the river on your rafting trips as you create a unique gift that is sure to be a highlight of the holiday season. From Holiday cards, to t-shirts for the next family getaway, or even a personalized mug for dad, you can highlight your past whitewater adventures in so many ways! Buy your whitewater rafting photos today to get ahead on your holiday shopping!
Include Your Photos in Holiday Traditions
Use your whitewater rafting photos to spread holiday cheer! Share your memories and adventures from the year by including the photos on your Holiday cards! Sending these cards will connect friends and family near and far as well as be a beautiful way to remember amazing memories exploring the rivers of Colorado with Kodi Rafting. You can add a sentimental touch by creating customized gift tags, wrapping paper, stamps, or gift labels that will make for a special moment before the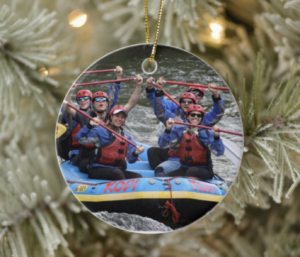 gift is even unwrapped. 
Want even more personalized holiday magic? Turn your rafting photo into an ornament that will be a warm memory every year when it is hung on the tree during your seasonal celebrations. Including your rafting photo and date in your family's favorite holiday traditions makes for a perfect reminder of the year's memories.
Highlight your photos on Items for the Home
Another perfect way to mark the holidays and create a sentimental gift is to put your rafting photo on an item for your or your loved one's home! Include your rafting photos in a calendar that will fill next year with memories. Start each day off right for your friends and family as they sip coffee from a personalized mug highlighted by smiling faces and roaring waters. Gift a custom blanket so your family member can cozy up under it at the end of the day comforted by the memory of time with friends and family. Or even put together a photo book that documents your travels and can serve as an accent to the coffee table!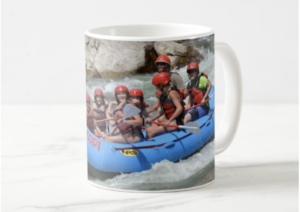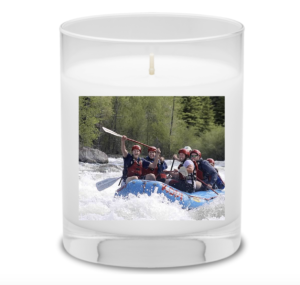 A custom throw pillow adds a splash of decor and fun to a couch or chair while also showcasing your adventurous spirit. Order raft photo magnets to put a smile on the face of your gift recipient and bring a smile whenever that special someone opens their fridge. Or, create a custom candle that will bring light and warmth into the home of your family or friends. 
Want something to do with the family after all the presents have all been unwrapped? Gift a puzzle to work on together that, once completed, will reveal your looks of excitement as you go through the rapids! Personalized stickers can also be fun for children and adults alike as you decorate water bottles, notebooks, laptops, skateboards, or anything else you wish to personalize! Of course, you can always gift a beautifully framed photo or canvas print that will grace your loved one's walls or shelves. Regardless of what home-enhancing gift you decide to customize with your rafting photos, these ideas will surely be a perfect way to relive past adventures. 
Rafting Photos As Fashion Statements
Turn your photos into a fashion statement or accessory! Unwrapping a gift that the recipient gets to wear and remember your whitewater rafting adventures is sure to make for a memorable gift. Plus, a custom t-shirt or hoodie can be the perfect accessory for a future family reunion or get together with friends! 
Carry whitewater memories with you with a personalized tote bag! From grocery shopping to the bookstore, or even just as a bag for going around town, having a custom tote will mean your memories travel with you or your loved one wherever they go. A personalized phone case can also serve as a daily reminder of your travels in the Colorado Rockies and even start conversations about your whitewater rafting experiences!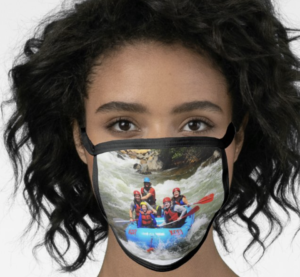 Transform your rafting photos into a cloth facemask. Help loved ones stay safe by gifting them a personalized facemask that will serve as a reminder of great memories made while adventuring in the mountains. No matter how you decide to accessorize with your rafting memories, this gift will be sure to bring a smile to your loved one's face (even from under a mask!) and become a conversation starter to whoever they interact with. 
Transforming your rafting photos into a personalized gift for yourself, your family, and friends will definitely add magic to this holiday season. From a fashion statement to a home staple,, any way you pull in your photos will serve as a wonderful reminder of your trips down Colorado rivers!