Nestled where the Blue River and Colorado River intersect, Kremmling is a haven for outdoor adventure and small-town charm in the Colorado Rockies. Whether you are looking for an exciting day maneuvering the rapids of the Upper Colorado on a Kodi whitewater raft trip, a scenic hike, or a tasty bite to eat at a local spot, you're sure to find something that will bring you back to this Rocky Mountain town time and time again.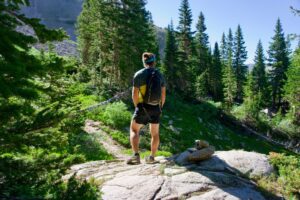 Get Out On the Hiking Trail
Lace-up your boots for a hiking expedition! For an easy-going out and back trail, try Windy Ridge which will lead you to a lake and is also friendly for four-legged friends. For more of a challenge, take a hike along the 2.8-mile Gore Canyon trail. Along the way, you can enjoy the scenery of the breathtaking canyon and even bring along camping gear for a night spent on BLM land for a small fee. Looking for a longer trip? Try the Silver Creek Trail in Arapaho National Forest. The main highlight of this 12-mile trail are wildflowers that can be spotted along the journey. No matter the difficulty level, a hike in the Rockies is always a great way to spend the day.
Enjoy the Views on a Scenic Drive
The Trough Road, which is part of the Colorado River Headwaters Scenic & Historic Byway, sits right outside of Kremmling offering breathtaking views. Driving along the route, you will encounter winding turns and stunning scenery including both the Colorado and Blue Rivers. Make sure to stop and take in the view from Inspiration Point for views of the Gore Canyon where you might even spot a raft floating by!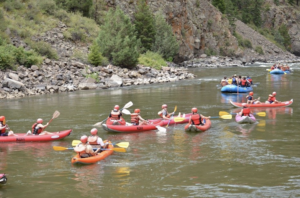 Spend Your Day on the Water
With two major rivers and a nearby reservoir within easy access, Kremmling is a hotspot for water recreation! Rent a boat or launch your own onto Wolford Reservoir where you can fish, water ski, knee-board, stand-up paddleboard, or simply enjoy being on the water. Looking for more adventure? Take a whitewater rafting trip along the Upper Colorado. Choose either a half or full-day raft trip that offers gorgeous scenery and mild waters perfect for families. Want to try navigating the river on your own? Book a duckie trip or add one to your rafting expedition to paddle on your own while still having the support of a nearby guide. Keep an eye out for local flora and fauna along the way and you may even catch sight of evidence of prehistoric creatures that once called the area home!
Take a Soak in the Hot Springs
After a day of rafting on the river or a nice long hike, ease sore muscles with a soak in the Hot Sulphur Springs. Take your pick of 21 mineral pools, all heated to temperatures ranging from 95º to 112ºF from nature's power from underground hot springs. Looking for even more relaxation? Book a massage to truly treat yourself to a day of relaxation.
For more of an adventurous day, you can hike a mile down to the Radium Hot Springs pools found along the Colorado River just a short drive outside of Kremmling. This experience offers scenic views while you sit in the natural pools. You can often find entertainment and friends along the way in the passing raft trips and cliff jumpers who dive into the chillier waters of the river. Whether you find a hot spring at the end of a hike or in a resort setting, a hot spring soak is the perfect way to replenish tired muscles and lift spirits after a great mountain adventure.
Grab a Bite to Eat at a Local Hotspot
A day of hiking, rafting, fishing, or relaxing in a hot spring will surely work up your appetite. After a day of adventure, be sure to head into town to grab a bite to eat at a local dining hot spot! Stop into the Grand Old West for homestyle cooking like chicken fried steak and mashed potatoes and gravy while you sit in a charming rustic setting. Other nearby eateries include Los Amigos Mexican Restaurant, the Moose Cafe, and Big Shooter Coffee which is the perfect place to grab a coffee, pastry, and even an ice cream cone!
Whether you are seeking a whitewater raft trip, a scenic hiking trail, or a calm getaway to enjoy hot springs, the Kremmling area offers something for everyone! Escape the hustle and bustle of city life and explore the charm of small-town life in the mountains by finding a quiet hiking trail, fishing in a reservoir, or grabbing a bit from a local restaurant. No matter how you decide to spend your time in this Rocky Mountain gem, you are sure to make memories you will never forget!