When the weather cools off in the Rocky Mountains, a certain kind of magic steps in. The aspen trees display vibrant yellows, golds, and reds on their leaves creating incredible scenery and views that are swoon-worthy. Meanwhile, the summer crowds empty out, leaving behind a charming, slower-paced feeling in mountain towns from Breckenridge, to Frisco, and Buena Vista. Take your pick of scenic drives where you can make a pit stop to see a historic ghost town, pull over at a hiking trailhead, or take a soak in a hot spring near Kremmling. Whether you are looking for incredible views, hiking trails, or ride a horse, these are the best places to get a glimpse of the annual aspen spectacle in Colorado's Rocky Mountains. Be sure and bring your camera or smartphone to get some great photos that might be perfect for your holiday cards.
1. Cottonwood Pass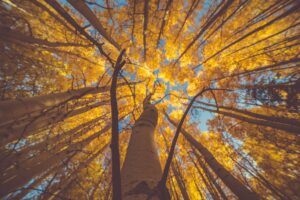 Take the scenic pass along the Continental Divide to see the stunning fall scenery! Reaching an altitude of 12,126 feet, this pass is the highest in altitude on the Continental Divide and offers incredible 360-degree views. This route passes through both Almont, a quintessential mountain town, and Buena Vista, which is a hub for whitewater rafting since the Arkansas River flows right through town. Or, find hiking trails, camping areas, mountain biking rides, and relaxation in the Mount Princeton and Cottonwood hot springs along the way of this scenic pass!
2. Collegiate Peaks Wilderness
Take in the views of the changing leaves from the summit of one of the eight fourteeners (There are 52 peaks exceeding 14,00 feet within the state) that can be found in the Collegiate Peaks Wilderness. Filled with mountains named after some of the country's most prestigious universities, this is the perfect place to enjoy the changing seasons while exploring a hiking trail and maybe even knocking a fourteener off your Colorado bucket list! After you reach the summit and make it back to your campground, grab a celebratory pint at a local brewery in Buena Vista, which sits less than 30 miles away from this hiking haven!
3. Independence Pass
Boasting 32 miles of stunning scenery, Independence Pass is one of the best drives for getting a glimpse of the breathtaking fall foliage and Roaring Fork River. Sitting just outside of Aspen and a short drive from Buena Vista, this pass can be accessed near top destinations for leisure and outdoor adventure in the Centennial State. For a challenge, you can pedal your bike to the top of the pass that reaches an altitude of 12,095 feet and coast all the way down. Or, find more fall-spirited fun at the Independence Ghost Town where you can take a self-guided tour of the 1800's gold mining town that still features the remnants of stables, a general store, and a cabin.
4. Boreas Pass
Starting in the historic railroad town of Como, this 22-mile scenic drive winds you through the Rockies and down into Summit County. Along the hour-long drive, you reach a summit of 11,481 feet and enjoy views of the aspen trees that can be found along the sides of the road. Pull over, lace up your hiking boots to set your course along the Baker's Tank Trail, or the Aspen Alley Trails to see the fall splendor on foot. When you reach the end of your scenic excursion, you won't want to miss exploring the dining and shopping hotspots of popular tourist towns like Breckenridge and Frisco. Stroll down Main Street in either of these charming mountain towns to browse quaint local shops, breweries, and delicious eateries!
5. Colorado River Headwaters Scenic Byway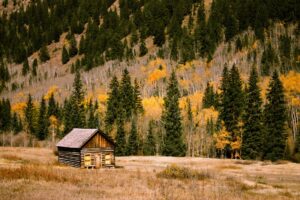 Follow this breathtaking drive along the Colorado River! This route will also lead you past Grand Lake, Shadow Mountain Reservoir, and Lake Granby, offering plenty of opportunities for fishing and getting out on the water along the way. For a day of relaxation, make a pit stop to soak and enjoy the natural hot springs outside of Kremmling that can be found on the banks of the Colorado River or indulge at the Hot Sulphur Springs Resort & Spa.
No matter if your ideal fall activity involves a scenic drive, a hiking expedition, or a ride through the forest on horseback, getting into Colorado's Rockies to see the changing leaves is a memory worth making! Once the leaves begin to change, the aspens only hold onto this magic for a couple of weeks, so pick your route and hit the road to get a glimpse of this Rocky Mountain spectacle!