When you are considering what experiences are a "must" to check off your Colorado bucket list, you may find your search results looking something like 'whitewater rafting near me' or 'horseback riding near me.' But it may be difficult to fit in both activities when you have limited time left to explore the mountains. Luckily, you no longer have to choose one experience over the other when you spend the day on an Adventure Package day trip!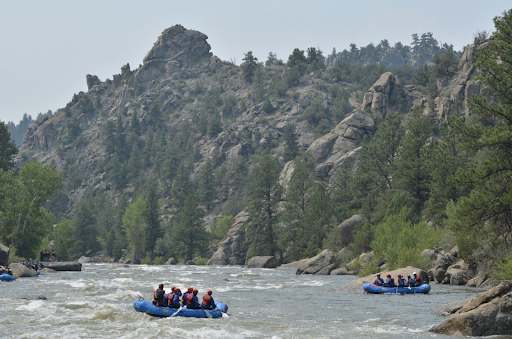 A trip like The Saddle Paddle sets you up for double the fun pairing a morning whitewater rafting trip with an afternoon of horseback riding in the Rockies, making for an unforgettable duo of Colorado adventures. This family-friendly day trip offers plenty of thrills while still being suitable for guests as young as 7 years old. Plus, you need look no further than the seat of a raft or saddle to find the most stunning views in the Rockies. From navigating a raft through Brown's Canyon National Monument to journeying along a rugged trail on horseback, there is no better way to get a taste of western adventure in the Rocky Mountains!
Make a Splash in a Whitewater Raft
Start the day ready to go in your whitewater-friendly outfit before hopping into the provided wetsuit, booties, and even a splash top that will help you stay warm. Finish off your look with a helmet, PDF (AKA your Personal Floatation Device), and strike a pose as a group with your paddles in hand before boarding your raft and setting off on your adventure. Once you get moving along the Arkansas River, get ready to take in the breathtaking views of the surrounding Collegiate Peaks with many of the mountaintops soaring above 14,000 ft. You will also be immersed in Colorado's mining history with railroad tracks and mine remnants that date back to the 1880s being visible along your water journey. Many of our guides may even be able to spill a few interesting facts about Colorado's rich history or maybe even crack a joke or two. Don't forget to keep an eye out for wildlife like the elusive bighorn sheep, soaring eagles and hawks, diving ospreys, and the occasional jumping trout.
While you enjoy the view and scout for wildlife, keep an ear open and listen to your guide give helpful instructions on when it is time to focus on paddling and navigating the raft down the river. Along the way, you can expect class III rapids that will definitely create thrills and splashes while still being tame enough to be fun for the whole family. Meaning, there may be obstacles like exposed rocks and faster waters but nothing as technical as the more advanced class IV or V trips. You should expect to get wet from a splash or two but don't worry, that's what your gear is for. You definitely won't forget the experience of working together with family and friends to pass through challenging rapids!
Take in the Horseback Mountain Views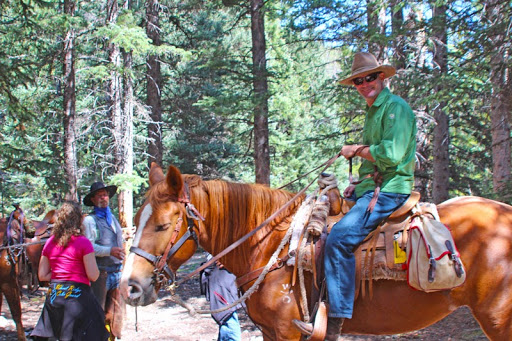 Experience Colorado's western roots by stepping into some cowboy boots! After a morning spent on the river and a tasty provided lunch at the Mt. Yale Outpost, dry off and get ready to hop into a saddle to see Colorado from a whole new perspective. Once the primary way of exploring the Rocky Mountains, horseback riding allows you to relax and connect with the western history and natural beauty of the Centennial State.
Put your foot in a stirrup, grab the saddle horn, and swing yourself up onto the back of your horse. Bring along a cowboy hat to shade your head as you ride and you will feel like you stepped into an old classic western film. A genuine cowboy or cowgirl will lead you and your new four-legged friend on your expedition as you view the mountain trails like never before from the seat of a saddle. Enjoy the tranquility of the ride as you gaze across the meadows, hear the peaceful sounds of babbling creeks, catch sight of even more wildlife, and form a powerful connection with the amazing animal carrying you along the trail. Don't forget to pack a camera in your saddlebag to capture your newly-found horseback viewpoint of the stunning mountain landscape as well as snap a few shots of family, friends, and your beautiful horse companion. These photos will remind you of your horseback adventure for years to come!
The Saddle Paddle is the perfect way to optimize family-friendly adventure while also crossing off two unforgettable experiences in a single day. Along the way you will encounter breathtaking views, landmarks of Colorado history, and also have the opportunity to make new friends in your raft guide, wranglers, and even your horse. Combining two of the state's most iconic means of exploration, this action-packed day trip is sure to get you in touch with Colorado's western roots all while enjoying memorable quality time outdoors with your loved ones.