You've booked your KODI Rafting trip, now the question is, what should you wear? If this is your first-time whitewater rafting, you probably have a lot of questions around proper clothing. It's important to dress appropriately when you're getting on the river so that you keep warm and happy throughout your rafting trip! We will provide all of the rafting equipment that you'll need for the day, but it's important that you come prepared with proper clothing to wear on the river. We've come up with a list of must-haves for your upcoming rafting trip and where to buy these items locally.
Say No to Cotton
Make sure to check the weather before you leave to come on your trip. Just as with any activity, the time of year you choose to go rafting will impact how you should dress. Spring trips early in the season most likely will require heavier layers than a trip taken mid-summer when the sun is strong and hot. No matter the weather, avoid cotton, jeans, and long non-synthetic pants. Once cotton gets wet, it stays cold and gets heavy- not ideal for a day on the water. Depending on what trip you decide to do with KODI, it's likely that you will get wet on the trip, so be sure to wear quick-drying shorts/top and/or a bathing suit under your clothes. If the forecast is sunny, it's a good plan to have a synthetic shirt for sun protection and warmth.
Proper Footwear is Important
Wearing sturdy footwear (no flip flops/crocs) is extremely important! Sturdy footwear can be sneakers, strapped sandals, or wetsuit booties that won't fall off. Some of our favorite brands for good water shoes are Chaco, Teva, Keen, and Astral. When picking the right shoes, choose a pair that's light-weight, moisture-wicking, and/or quick-drying. For those who might be worried about getting cold feet, consider investing in a pair of neoprene socks. NRS makes a great pair that is super thin but also warm. You wear them just like socks: put them under your river shoes and you'll stay pretty warm. Grab yourself a pair at one of our favorite local shops in Buena Vista, CKS Main Street. These guys have tons of other gear available in store, and they also have great rafting shoe options. The Trailhead in Buena Vista also has great water shoe options, as does the local Outdoors & Mountain Market in Leadville.

KODI Rafting Gift Shop
Of course, you can grab additional items at our gift shop. KODI's gift shop has a great selection of fun t-shirts, hats, souvenirs, and most importantly – sunglass retainer straps. Having the security of a sunglass retainer strap eliminates the likelihood of losing your sunglasses right off your head and into the water, never to be seen again. We can't recommend grabbing one of these for your rafting trip strongly enough!

Melanzana: A Local's Favorite
A Colorado staple clothing item that is 100% hand-made and loved by rafting and outdoor enthusiasts alike can be found in Leadville at one of our favorite local stores, Melanzana. A small group of locals started Melanzana back in '94 and it has since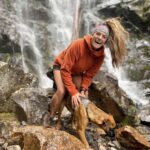 exploded in popularity. Melanzana makes unique hoodies, beanies, dresses, and more. They have a few different fabrics, but a lot of Melanzana lovers go for their Micro Grid fabric, which is a super-soft lightweight fleece with a grid of open channels for maximum comfort and breathability. Micro-Grid fabrics are great for rafting season as it is fast-drying and pretty sweet!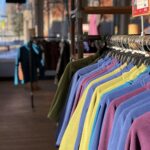 Melanzana prides itself on their commitment to putting "quality, soul, and authenticity before quantity" so their 20-person team of skilled sewers carefully puts all the materials together, making each one unique. When they've made a new batch of products, you better pick one or two up quickly because they sell out fast! Their website shows current stock status, so you know what items they have currently available. Melanzana has just one rad store and it's located in Leadville between our Frisco and Buena Vista outposts. Typically, the only way to get a Melanzana is to visit their store. However, this summer their store will remain closed due to pandemic restrictions, so if you would like to get a Melly, you'll have to enter their lottery system. Read more about the lottery system here www.melanzana.com/lottery
Bring a Change of Clothes
Melly's are nice and warm and great to wear after your rafting trip with us. You probably don't want to drive home in wet clothes, so plan to bring a set of dry clothes, socks, and shoes so you can change in the likely event you get wet. Bringing a towel and a bag for your wet clothes is very helpful too! If you think you might want to bring something small in the raft, consider bringing a dry bag if absolutely needed. Please note that we will be leaving most personal items locked in your vehicle. On most rivers, there is a photo company providing digital photos of you going through rapids, so don't even worry about bringing your phone on your rafting trip.
KODI Rafting also offers wetsuits, booties, and splash tops. Wetsuits are farmer johns and splash tops are heavy-duty rain jackets designed for the river perfect for cooler days. On our full-day trips, wetsuits rent for $10, booties for $5, and splash tops for $5. You can also rent the full set for $17, which is a great investment for being comfortable. On half-day trips, wetsuits rent for $5, splash tops for $3, and booties for $3. The full set goes for $10.
What does KODI Rafting provide for me that I do not need to bring?
Helmet

Paddle

PFD life jacket – required
KODI's guides make your safety their number one priority, so each of these items have been cleaned and checked thoroughly and regularly to ensure the best possible experience for our guests!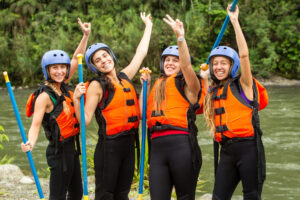 No matter what your whitewater rafting skill or experience level is, we are here to help you have the best adventure, and that includes dressing appropriately. A properly planned outfit will make all the difference while on your white water rafting adventure with us. Knowing what to wear is important, so here's a checklist of the best product in each category for what you might want to have:
___ Quick-drying shorts/top – Prana is a great brand for men & women that can double as hiking clothes
___ Synthetic shirt for sun protection & warmth – The North Face offers sun protective, light-weight shirts
___ Water shoes – Teva is a sturdy and durable brand for excellent water shoes
___ Sunglasses
___ Sunglasses retainer – consider buying local, and buy this item at our shop!
___ Sunscreen – we offer choices at our shop
___ Sweatshirt or Melanzana – Made in Leadville, if you want incredibly comfy outerwear and would like to dress like a local!
___ Drinking water (we will also provide you with water if needed), ideally a reusable water bottle with a carabiner to hook onto the boat to avoid one-use plastic bottle waste
Give us a call if you have more questions about what to wear for your rafting trip at 877-747-RAFT. See you on the river!