The mountains of Colorado give way to some of the most impressive hiking trails in the United States. Getting outside on a trail and getting your body moving under the warm Colorado sun is so enjoyable! From shorter hikes with minimal elevation gain, to the more challenging and longer hikes that lead up to the tallest peaks in Colorado, there are amazing hiking options for every type of hiker. If you enjoy hiking and want a great challenge, we highly recommend hiking a 14er. Out here in Colorado, the accomplishment of hiking to the peak of a 14,000 ft mountain, or as us locals say "14er" is like obtaining a badge of honor. We arguably have a total of 54-14ers in Colorado and once you get a taste of summiting one of them, you'll be hooked! There are quite a few people who try to complete hiking all of them, which is an incredible accomplishment. If your goal is to hike them all in your lifetime, or you just want to get the first one under your belt, there are loads of important things to keep in mind and ways to prepare for your hike to the summit.
The Sawatch mountain range in Buena Vista includes a group of 14,000 ft mountains called the Collegiate Peaks which are some of the tallest mountains in the Rocky Mountains. The Collegiate Peaks are named after Ivy League Universities and are among the highest concentration of 14,000 foot peaks in the United States. Mt. Harvard, Columbia, Princeton, Yale, Oxford, and Belford are some of the most impressive and stunning peaks in the area and are sought out by avid hikers that crave to see the jaw-dropping views from the top. OK well, Belford isn't a University, but it's still part of the range!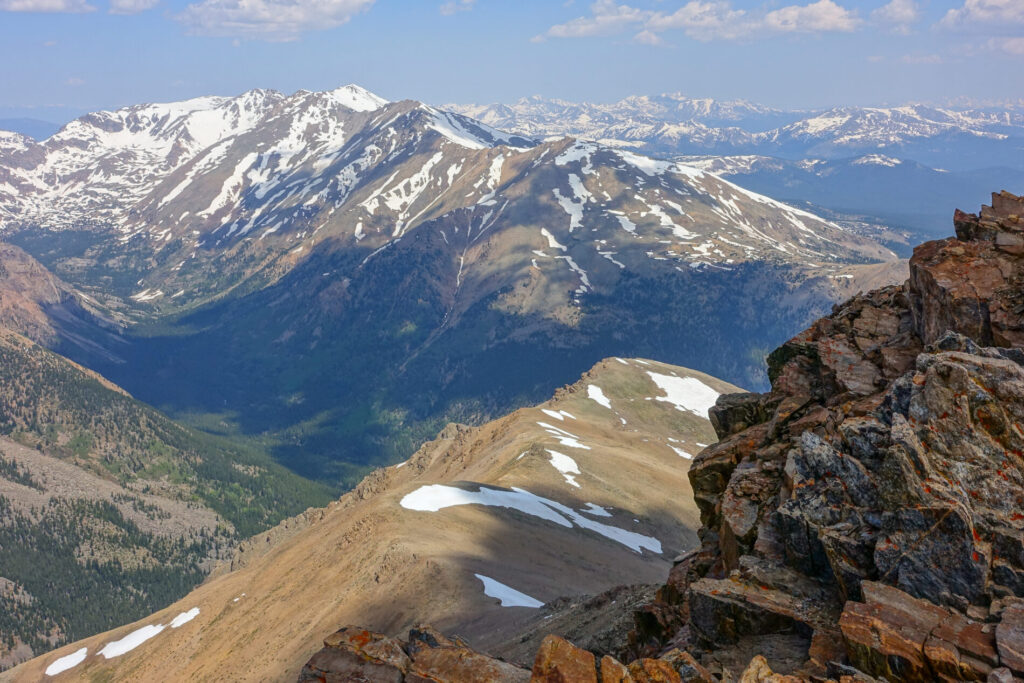 When choosing which 14er you want to summit, it's very important to plan and study your route. Having a strong understanding of what your chosen route looks like on a map helps prepare you for different parts of the trail. 14ers.com is a great site that has current information on trail conditions, elevation gain, length of each hike, printable maps, and even includes comments from hikers that have done each hike with their reviews. All Trails is a great app to use as well, but be sure to download the route and trail prior to getting started so there is no chance that you'll lose the map because of lost cell service when you're on the trail.
Always be prepared for changing weather. Depending on where you live, you are most likely going to experience a drastic change in elevation when coming to Colorado. A change in elevation means a definite change in temperature and weather. You could get lucky at the base of the trail with warm weather, but we can promise you the temps at the top are not nearly as warm. Make sure you are prepared with synthetic layers in your backpack to keep you dry. We highly recommend wearing something like a Melanzana to protect you from the weather. Check out some awesome layers that we recommend here.
Temperature fluctuation isn't the only factor when considering weather- thunderstorms and lighting often occur in the summertime. It's not uncommon for the day to start off with blue skies, but in a matter of minutes, that blue sky can turn very dark and ominous. Be mindful that if a thunderstorm comes along when you are hiking above treeline, you will be sticking out like a literal lightning rod. Keep an eye on the sky during your summit – be smart and head back to the trail head if the sky looks threatening. The mountain will be there for your ascent another day.
Wear appropriate clothing. Close toed shoes with ankle support is the best kind of shoe you can wear. Merrell and Columbia have great hiking boot options that will provide support and comfort as you make your trek to the mountain top. Although not required, it's helpful to hike with trekking poles to maintain balance and they provide that extra push when climbing up steep terrain and are helpful when navigating across rubble and loose rocks, or even snow fields. Black Diamond makes durable trekking poles that we recommend.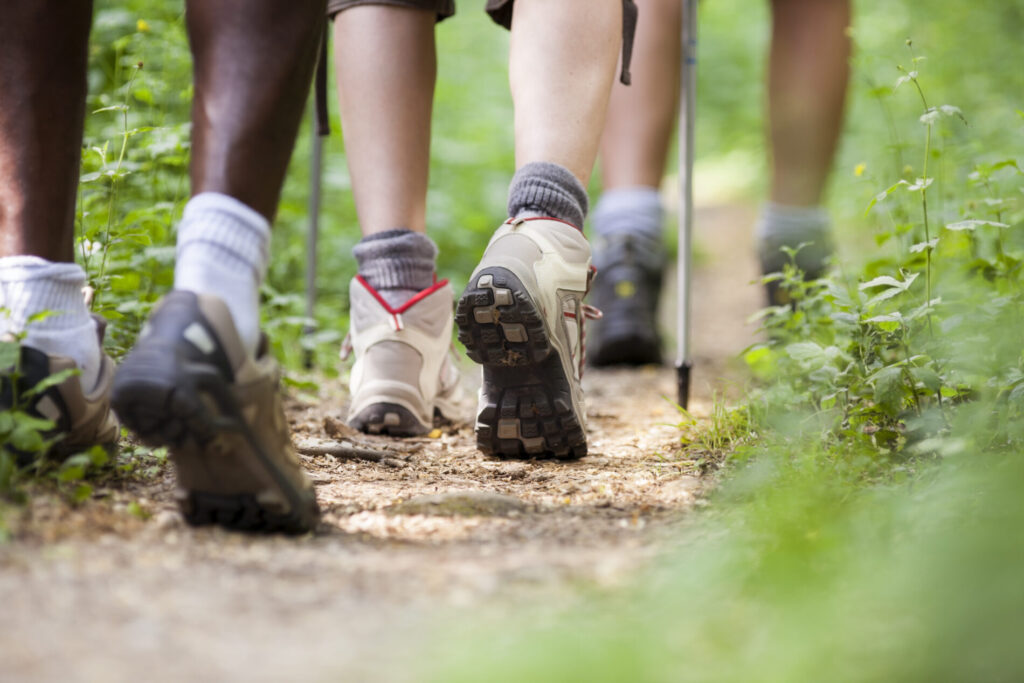 Once you start hiking above treeline, you lose all shade to protect you from the sun's intense rays. We recommend wearing a hat with a wide brim to protect your face, and definitely wear sunscreen even if there are clouds. Remember, you are gaining elevation, and essentially getting closer to the sun with very little atmosphere to filter those rays.
Bring a first aid kit. It's always good to be prepared! Summiting a 14,000 ft mountain is challenging, and you wouldn't want to be in a bad situation without any sort of aid. From blisters to a headache to a twisted ankle, you want to be prepared for anything. 
Start early! When we say early, we mean start before the sun even comes up. You don't want to be on the summit after noon, as that is when weather often changes quickly and it's essential to be off a high summit at that time. If you're planning on hiking a 14er that's far from where you are staying, think about camping at the trailhead so you can be sure to get up and get started before the sun rises. Make sure to check trail rules about this as each trail is different and may or may not allow camping at the base. This is where planning ahead comes into play!
Eat a nutritious breakfast. You will be expending a lot of energy on this hike. This is a perfect time to consume complex carbs along with protein and fats to give your body as many nutrients as you can. Stop along the way to refuel and indulge in snacks. Bringing snacks on the hike up is a key element that will ensure that the energy you are exerting is being restored by nutrition. Ensuring that the group you're hiking with is feeling good, staying hydrated, and refueling with snacks is a great way to ensure your whole group is in good shape to finish the hike. Here are some of our favorite snack options
Stay well hydrated. Try to drink a liter of water before even starting your hike. As a rule of thumb, you should be drinking 1 liter for every 2 hours of hiking. If this is your first attempt at bagging a 14er, it will probably take you 3-6 hours to complete your hike. We recommend bringing 2-3 liters in a bladder such as a Camelback. Don't expect to re-fill your water bottle along the route, there are parasites in the streams that will make you sick if you don't treat it before drinking. You can bring water filtration along (a good idea in any case) but don't count on it as some routes can be dry.
The last thing we suggest when hiking a 14er, is to push past your mental limitations!. We'll admit it – the first part of the hike is going to be challenging. It's going to be steep and your mind might focus on the larger goal. Take it one step at a time, you CAN do it, and it will get easier if you push yourself. Encourage your hiking buddies when they're feeling defeated, and you'll feel inspired to keep trekking as well. Choosing your hiking partners wisely is also important – those that are rational, prepared, experienced, and upbeat are the best!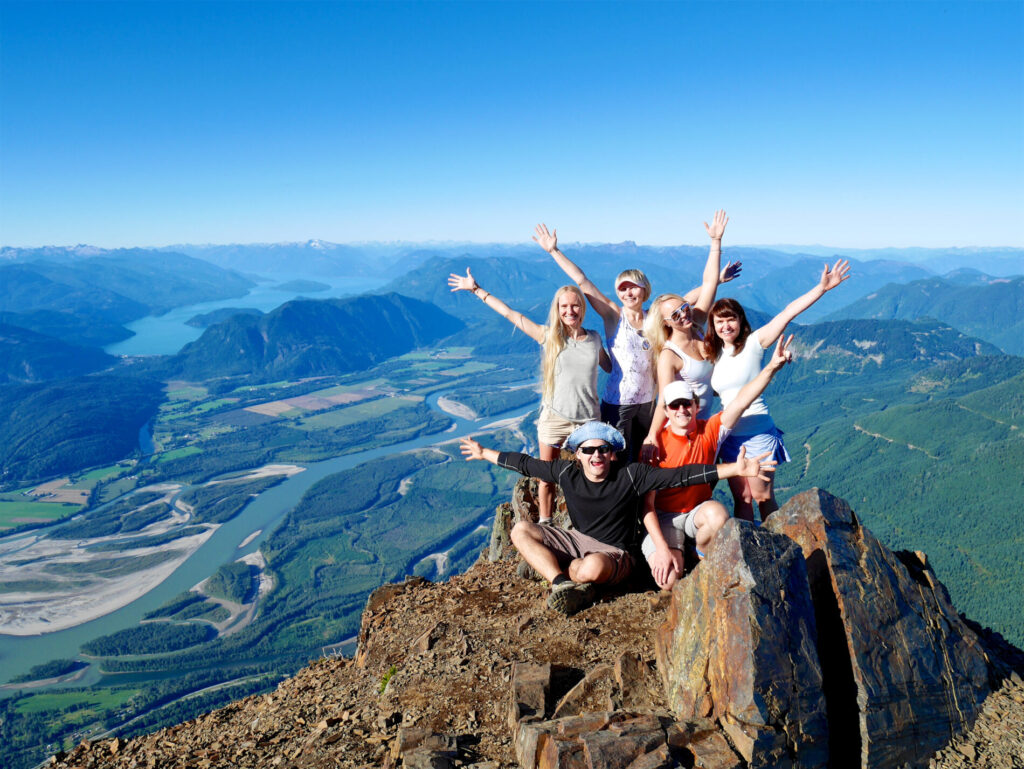 Enjoy reaching the summit- you're on top of the world! Give yourself some time to enjoy the views, and take lots of photos. Locals sometimes like to bring a sign that has the name of the 14er on it with it's elevation so you can snap a photo at the top with a proud smile showing which mountain you successfully summited – just be sure to pack it out with you, as you do with everything you take on the mountain. Leave no trace is the motto. 
We hope this guide to hiking a 14er helps get you prepared for a fun, exciting, and tremendous achievement. If you're planning on visiting Buena Vista and have a knack for hiking, you won't want to miss the opportunity to summit one of the beautiful Collegiate Peaks. The views will last a lifetime. Happy hiking!